APA Members get $50 discount!
2 Day Class – Facial Rejuvenation Acupuncture
Traditional Acupuncture Facial Rejuvenation
(2 day class does not include Facial Cupping/Gua Sha)
2 Day Class – Facial Rejuvenation Acupuncture. Taught by Michelle Gellis LAc MAc DiplAc. This two-day 14 CEU class covers Facial Rejuvenation Acupuncture Theory and Acupuncture Needling Techniques and Protocols for Cosmetic Acupuncture. This is a facial acupuncture certification class for American Acupuncture Council. Hands-on skills such as submuscular and intradermal needling and techniques for needling the scalp, face and body points are practiced in a small class setting. AcuLifttm Micro-needle Dermal Roller training is part of class. The Traditional Acupuncture Facial Rejuvenation Class has been approved by the NCCAOM for 14 PDA points (CEUs), and 14 Florida CEUs and 14 California CEUs. All materials needed for class are included. The skills taught in this class will be immediately applicable in your practice.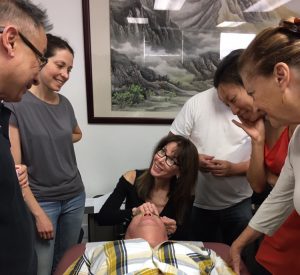 Michelle Gellis demonstrates Facial Acupuncture
Acupuncture Facial Rejuvenation Certification Class provides lectures on: Facial Rejuvenation Theory, Technique and Point Selection, Needling Technique. Paperwork and supplies are included. The class is a hands on class* with an internationally published expert in facial acupuncture, small class size. Information on aging. You will recoup the cost of this with your first patient.
Facial rejuvenation acupuncture is in high demand. As an acupuncturist, certification in Acupuncture Facial Rejuvenation is required by AAC for Insurance coverage. The class is approved by the American Acupuncture Council. Some of the benefits of Acupuncture Facial Rejuvenation are that it can erase fine lines, lift sagging eye lids, reduce bags/circles, firm jowls and double chin, can tighten pores and is beneficial for Rosacea. Facial Rejuvenation Acupuncture increases collagen production, improves hormonal balance, benefits acne, and increases circulation of blood and lymph to the face. The treatments also promote overall health and well-being.
2 Day Class – Facial Rejuvenation Acupuncture includes:
Lectures on Facial Rejuvenation Theory, Technique and Point Selection
Paperwork (forms, contracts etc) necessary to get started
Supplies needed to practice in class
*Hands on training (for licensed practitioners, students may schedule hands on for a later time)
AcuLift™ Derma Roller Demonstration
Cost: $575 for practitioners
Early Bird Price: $525 for practitioners
Save $50 if you register by the early bird date. Early bird registration cut off dates are different for each class, please see class registration form for details.
Unlicensed Students: Use coupon code "student50" when registering, and get $50 off the price of the class.
MICHELLE GELLIS LAc MAc DiplAc has been teaching at the Maryland University of Integrative Health since 2004
The Traditional Acupuncture Facial Rejuvenation Class has been approved by the NCCAOM for 14 PDA points (CEUs), and 14 Florida CEUs and 14 California CEUs
NOTE: Cancellation Policy for Live Classes and Live Webinars:
15% cancellation fee up to 30 days prior to class
50% cancellation fee up to 14 days prior to class
no refunds thereafter
Shonishin:Pediatric Acupuncture
Share this event:
SHONISHIN:PEDIATRIC ACUPUNCTURE
7 NCCAOM PDA's Pending

Shonishin/pediatric acupuncture (sho=little, ni=children, shin=needle) is a specialized form of treatment for infants and children that became renowned in the 1700s in the Osaka region of Japan. To this day, Japanese parents regularly bring children for shonishin treatment, and the shonishin approach is increasing in popularity around the world.

Children's bio-energetic systems are not fully formed and, being at the most "yang" phase of their existence, their energy (Qi) moves extremely rapidly. Consequently, children's systems can be easily over stimulated, and health problems can progress rapidly.

Shonishin focuses on gentle, specialized, mostly non-invasive(no needle insertion) treatment techniques that children find comfortable and even pleasurable. Dramatic results can be obtained even with very light treatment.
In this one day seminar, Tom Nash, L.Ac. will cover this valuable treatment modality from start to finish covering a wide array of conditions and patterns. You will leave this class ready and able to begin taking better care of children both in your practice and at home! A great gift to give for the holiday!
About Tom Nash, M.A., M.S.O.M., L.Ac.
Tom earned his M.A. in Counseling and Human Development from St. Mary's University in 1982. After more than 20 years working the mental health and addictions fields, as a group, family, and individual therapist, supervisor, teacher, and program director, with both adults and children and adolescents, Tom returned to school in 1999 and earned his M.S.O.M. from the New York College of Health Professions. In 2003-04 he completed a year long clinical and teaching Residency Program. He was a full time faculty member, Clinic Director and Department Chair at New York College from 2003 until moving to Pacific College in 2009.
He is a Licensed Acupuncturist in New York State, and a Nationally Board Certified Chinese Herbalist. He is in private practice in New Rochelle and Hicksville is currently the Department Chair of Herbology at PCOM. Tom has been treating children, primarily with shonishin, but also with acupuncture and herbs, throughout his OM career. He has worked extensively with the traditional complaints shonishin has been used for: kids with asthma, allergies, and other respiratory illnesses, and various digestive complaints, but has also pioneered the use of the technique for kids on the Autism spectrum, and with issues such as A.D.H.D., learning disabilities, anxiety, insomnia, and depression.
Tom Nash is currently a faculty member, clinic supervisor, and the Chair of the Herbology Department at the New York campus of Pacific College of Oriental Medicine.
Venue
Pacific College of Oriental Medicine
Address
110 William Street, 19th Floor New York, NY 10038
New York NY 10038, US
Starts
Sun Dec 16 2018, 9:00am EST
Ends
Sun Dec 16 2018, 5:00pm EST
Professional Medical Ethics For the Contemporary American Acupuncture Practice:An Eastern and Western Perspective.
Share this event:
Professional Medical Ethics For the Contemporary American Acupuncture Practice:An Eastern and Western Perspective.
7 PDA's Pending NCCAOM Approval
January 13th, 9am to 5pm
Pacific College of Oriental Medicine, NYC
This is not your usual Ethics class! Tom Nash M,A.,MSOM,L.Ac brings a unique and in depth perspective from a western and eastern perspective.
The purpose of the course is to engage Licensed and practicing acupuncturists and practitioners of East Asian Medicine in the field's current and ongoing discussion of what ought to constitute a professional code of medical ethics for our very young, diversely practiced, plastic, and emerging field. In order to participate in this discussion and the ultimate development and formal adoption of a code of professional standards and behavior to which we will all soon enough be asked to pledge and bind ourselves to, practitioners will need to become aware of the elements of professional ethics and ethical behavior that have been agreed upon by other health professions in the United States.
In addition we will cover Confucius and Classical Confucian Ethics, Lao Zi, Zuang Zi and Taoist Ethics, Chinese Buddhist Ethics, and Neo-Confucian Ethics.
Given the unique historical, cultural, and philosophical origins of our medicine, we should deeply engage intellectually with the unique and specific ethical beliefs relating to medical practice that emerge in China and more generally East Asia from the four foundational systems of philosophy, and human behavior that deeply influenced all aspects of medical theory and practice: Confucianism, Taoism, Chinese Mahayana Buddhism, and Neo-Confucianism.
Many AOM graduate programs have added aspects of Ethics and Professional Development to their curricula over the past three or four years to meet the focus put in this critical aspect of our profession's timely stumbling towards professional maturity by constituents in our profession such as CCCAOM and NCCAOM. However those practitioners who graduated before this recent change and have been practicing, have been doing so not only without the guidance and support of a formal Ethical Code, but also without ever having been introduced or exposed to the basic principles of medical and professional ethics in the course of studies.
This day long workshop, then, is for them.
Venue
Pacific College of Oriental Medicine
Address
110 William Street, 19th Floor
New York NY 10038, US
Starts
Sun Jan 13 2019, 9:00am EST
Ends
Sun Jan 13 2019, 5:00pm EST